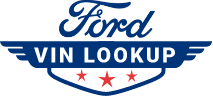 What's VIN
Free Ford VIN Lookup and Decoder
Find great places to stay, eat, shop, or visit from local experts.
Decoding a Ford C-MAX VIN
To decode a VIN of a Ford C-MAX car, you just need to enter its VIN into the search engine. It will be checked in the online database and all the information will be delivered to you in a few seconds. As you know, the VIN of your Ford is globally recognized, so the whole history of your C-MAX will be at your fingertips. This is a good thing to do, especially when buying a used car because only this way you can make sure that the car you are going to buy is not stolen or modified illegally. The format of the VINs is developed by ISO, so Ford has to mark all his cars in this way.
1st character means where the vehicle was built
2nd and 3rd characters stand for the manufacturer
The characters from 4 to 8 are for the brand, engine size, and type
9th character stands for the security code that shows the VIN was authorized by Ford
10th character means the model year of the car
11th is for the plant location where the car was manufactured
The characters from 12 to 17 are for the serial number of the vehicle.
Finding a VIN on your C-MAX
After understanding the importance of the information the VIN gives you, go and find the VIN on your C-MAX. The VIN is usually located in the following places of your car:
on the left-hand side of your windshield
on a plate of the lock side of the right-hand front door aperture at the bottom.
on the floor panel in front of the right-hand seat.
The seller also usually provides the VIN on the online marketplace. To make sure you have found the real VIN of your Ford C-MAX, check if the number on your car is the same as the VIN on the insurance or registration documents.
The information the VIN gives you
Buying a car is not an easy process and it must not be a rash decision. When your future Ford C-MAX is still waiting for you to take him home, there is a lot of vital information you need to gain access to. And this is why we want you to check it with the VIN of the car. If the car is unused, checking the information with VIN will let you know the manufacturer, the production year, the plant location where the car was produced, the model of the vehicle, type of car engine, etc. If you are going to buy a used car, then by decoding the VIN you will get information about the vehicle history as well, such as theft history, accidents, recalls by manufacturer, etc.
Check the VIN of your Ford C-MAX with us, find out all the information you need, and then drive your new car home.