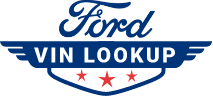 What's VIN
Free Ford VIN Lookup and Decoder
Find great places to stay, eat, shop, or visit from local experts.
Ford FOCUS VIN Decoder
If you are not well experienced when it comes to buying a new car, you should do a careful research before making one of the most expensive purchases of your life. In addition, you must pay attention to the manufacturer, model year, a number of features and so on.
Given these points, you should certainly use the VIN code of the vehicle to obtain the information you need. A VIN (vehicle identification number) is a 17-digit string of numbers and letters that includes information about your vehicle, such as where it was manufactured, what year it was made and by which company.
VIN number locations on a Ford FOCUS
There are many options available to you when it comes to finding the VIN number on your Ford FOCUS. In addition, you can find the VIN code located on the nearside front slam panel under air intake. You can see the numbers on a silver metal plate, held by two black rivets.
The VIN code can also be found on a plastic mounting with airbag logo one side and Ford logo below. You can see it through the nearside base of the front windscreen.
What comes to the stamped chassis number, it is on the driver's side foot-well just in front of the seat.
How to decode a Ford FOCUS VIN number
There is no difficulty with decoding a VIN number, especially when it comes to newer vehicles. You can decode your Ford FOCUS VIN code with the help of a Ford VIN Decoder, which is free, online, and easy.
To decode the number, you will need to enter the appropriate VIN number and wait for the results. As soon as you properly conduct the search, the tool will show you a list of needed details and facts.
What can your VIN number tell you about your Ford FOCUS?
A VIN number is capable of providing so much information about your Ford FOCUS that you may not obtain on your own. It is the best source for finding out the vehicle manufacturer, plant country or city, body type and engine.
Furthermore, the code is also a reliable source for learning about the various specs and features, model, make, series and interior/exterior colors.
Besides serving as a unique origin for learning about the car, a VIN number is also distinctive option to avoid possible mistakes. In other words, when you know more and more details, it is less possible that you can buy a vehicle, which is not worth of buying.
What we try to say is that a certain car may look spotless and almost brand-new. However, it may have tons of different and hidden problems. Thus, it is crucial to give a critical look at the vehicle's history and learn about potential accidents, illegal modifications and thefts.